When you spot foundation cracks, one of the first questions is whether homeowners insurance covers the damage if the cracks signify something beyond a cosmetic issue. As a general rule, people take out homeowner's insurance to protect against natural disasters. Most if not all mortgage companies require borrowers to have a homeowner's insurance policy in place as part of the loan processing. When it comes to foundation repair, your insurance may or may not cover it. Homeowners are expected to maintain their properties whether they own a new home or a home with an aging foundation.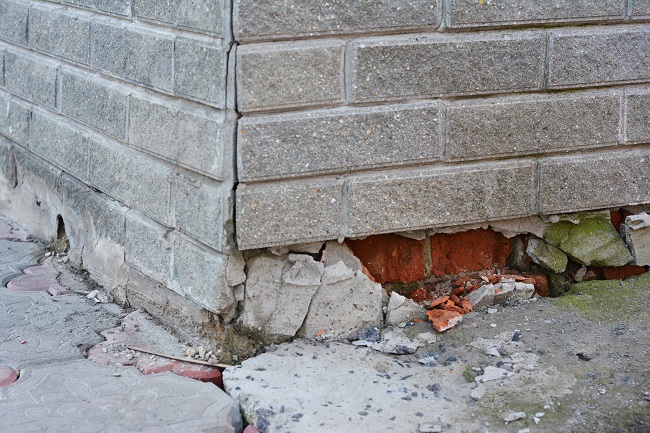 Understanding normal factors
In some cases, people spot foundation cracks that are part of the home settling over time. In other cases, drought or various climate changes cause shifting. A professional puts your mind at ease by determining whether your home needs actual foundation repair.
Reviewing your policy
Review your homeowner's insurance policy to find out whether the company covers foundation cracks resulting from fires, explosions, natural disasters and plumbing backups. Most policies cover reconstruction after such problems. If not, make changes to your policy for maximum protection. People with flood and earthquake insurance rely on the coverage for such catastrophic issues.
Keeping up with maintenance
Because insurance doesn't cover normal wear and tear of an aging home, it is important to keep an eye on your home. Don't make the mistake of simply painting over foundation cracks because the cracks signify possible damage due to improper drainage, tree roots or improper ground preparation prior to construction.
The good news is that a foundation repair expert takes measures that mitigate foundation damage before the problem gets out of hand. Remember, too, that when you change homeowner insurance companies they often come out and inspect the home. Your insurance rates could go up if an inspector sees foundation cracks or other signs of foundation problem. Before switching property insurance providers, it's always good to enlist the help of a foundation repair service.
At Steady House Foundation Repair, we are proud to be your one-stop shop for foundation and concrete needs because your home's value and security rests on its foundation. We are a specialty foundation repair service based in the Dallas-Fort Worth area. For more information or to have one of our experts diagnose foundation damage, please contact us today.