Steady House Foundation Repair is proud to provide specialty foundation repair services to customers all across the Dallas-Fort Worth area. Working with both slab and pier and beam foundations, we are happy to assist you with problematic issues that range from simplistic jobs to those that are highly complex. We recognize that the overall well-being of your home depends largely on the condition of what lies beneath it, and that many homeowners are alarmingly unaware of the state of this key element of their property. Although there are signs of foundation damage than can be seen throughout the interior and exterior of your home by the naked eye, it often takes an expert to properly diagnose the issue and determine just how severe the need for foundation repair has become.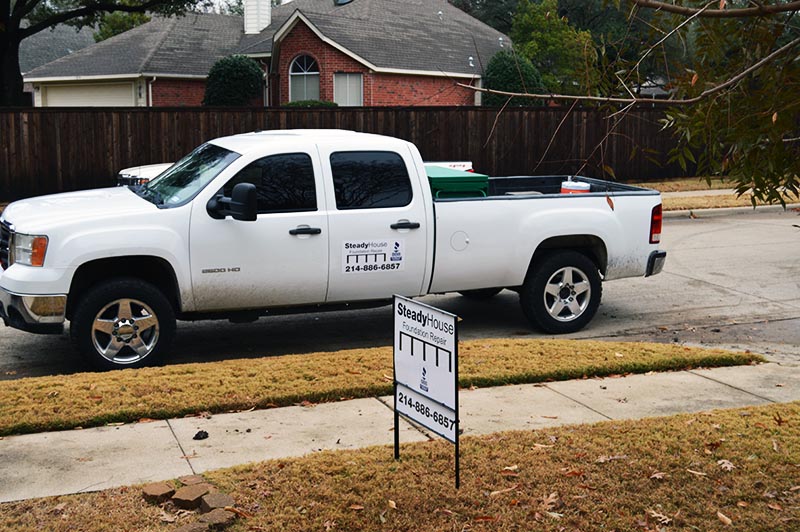 Due to our years of experience and the wealth of knowledge that we have thus acquired from working within a plethora of different homes and infrastructures, we have become a one stop shop for all of your Dallas area home leveling needs. Specializing in foundation leveling, we take the time to listen and educate our clients through the process, step by step. We are committed to treating your home as if it were our own, and we always get the job done right the first time. When your home has foundation issues, it's important to find a foundation repair company that will stand by their word and their warranty. Unlike a leaky faucet that just creates a minimal nuisance and can be brushed off week by week, a problem with the foundation of your home affects the entire investment that rests upon it and can create much bigger and more expensive issues if not cared for properly and in a timely manner.
Call Steady House Foundation Repair for your free foundation repair estimate! We look forward to studying the structural integrity of your home in order to best diagnose what your next steps should be, and our team of experts stand ready and waiting to answer any of your questions along the way. Because your home is of great importance to you, it is of great importance to us, as well. A sound home is a happy home, and we aim to create a safe and secure place for you and your family to enjoy.