Concrete cracks often occur due to expansion or contraction of soils beneath the slab. Due to the rigidity and brittle nature of concrete, when soils below washout or contract overtime, they can cause a void and the concrete will crack and settle, causing a transition on the surface above. Such transitions not only tend to worsen over time due to more moisture traveling through the crack, but can become a serious trip hazard for pedestrians, leaving the property owner with a liability risk for injury. Time was when there was little recourse when this occurred beyond a costly demolition and replacement job that often included removing soils below and replacing them with compact-able materials. When is comes to  managing the liability of uneven concrete these are a few things to consider.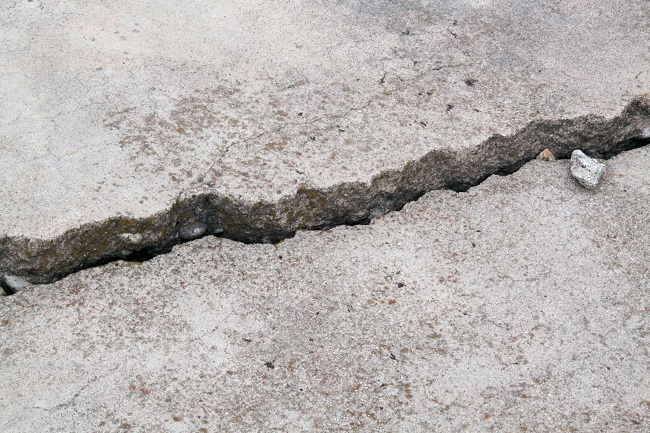 Now, thanks to Steady House Foundation Repair, property owners in the greater Dallas-Ft. Worth areas have much more cost effective options available to them. Instead of replacing large areas of concrete, the professionals at Steady House can simply raise the sunken slab of concrete. This process can be done quickly, economically, and does not require losing the use of the are for days or weeks during construction.
Following a detailed inspection of the problem, we can apply a technique known as concrete raising, whereby our technicians drill several small holes in the sunken area of concrete. Under high pressure, we then pump stabilizing expansive materials into the holes, raising the slab, until the transition disappears. Once it is gone, we patch the holes and fill the crack, leaving a smooth, level surface that water will no longer penetrate.
The entire process can take as little as a few hours during a low traffic time, leaving your home or business traffic largely undisturbed. Whether it is a trip hazard in the concrete outside, or cracking, leaking foundations or slabs inside your property, we use the latest materials and techniques to fix the problem and protect your family, your guests, and your assets. Have questions or concerns about your Dallas-Fort Worth area property? Contact Steady House Foundation Repair now to schedule a free consultation and get an estimate.